We've both been thinking about this expression since our last walking trip in South Limburg. A few days after we got home, torrential rain brought death and destruction to parts of Limburg, Belgium and Germany. Now that the International Panel on Climate Change has released its report, it occurs to us that this sentiment may be literally true for our times. Not only flood, but fatal heatwaves, rising sea levels and cyclones are likely to be the fate of future generations.
In its original context of the French revolution, "after us, the flood" probably meant "Who cares what happens? We'll all be dead soon anyway." But it could also mean "You think things are bad now; they're on their way to being seriously crap."
Possibly we both thought of this expression because this trip was with our Parisian cousin, with whom we share a recently acquired interest in trees. Now that the rules about travel have loosened up a little, we were able to get together for some gastronomic walking and tree worship. We brought our topo maps, and consulted the National Monumental Trees Register.
The Register recommended a few remarkable trees to visit. The oldest of these were a pair of lindens from around 1675. They may have been planted as property markers, but that remains uncertain.
The house at number 6 Groeneweg in Vijlen, at which the more prominent linden is located, has an interesting story attached. Prince Hendrik of Mecklenburg-Schwerin, the great-grandfather of our current king William Alexander, loved to gamble in some of the local casinos. He used to take the train from the Hague to nearby Aachen, where he was met by a coach with four striking black horses. They brought him to this house, which he built in 1904 for his local mistress, die schöne Anna.  Anna wasn't prince Hendrik's only mistress. His wife Queen Wilhelmina supported the progeny of fully three other mistresses after his death in 1934.
The linden in front of the house is called the "Hopsetere linde". This name is derived from Hebscheid, an old estate in Aachen. Perhaps it was seeded there and later planted as a sapling. Lovingly known in the National Monumental Trees Register as #1686962.
Here it is, with Mr. Bowtie and cousin Laura to provide a sense of scale.  
The trunk has a big vertical split, such as we sometimes see in old willows. Two iron braces through the trunk prevent the split from widening further. While admiring the tree we fell into conversation with the current owners of Prince Hendrik's house. They mentioned that until two years ago the crown had a rather tatty look, but a serious professional pruning has left it looking vital and flourishing. About two kilometers farther down the Groeneweg, its partner tree is set into the planting at the side of the road, so it can't be seen from all sides. But it, too, looks fat and happy.
While we're in a botanical vein, we discovered something cool about holly. The leaves don't always start out curled and spiked. This picture speaks a couple of dozen words.
Now let's talk about Limburg wines: they've gotten really good in the last few years. The climate having been too cold and wet in the past for wine grapes, Dutch wines were more a curiosity than a delight. Meanwhile, viniculture has moved on. A few new varieties of grapes have been developed which combine a shorter growing season with better resistance to molds. And at the same time the climate has warmed up. These two developments have created a kind of "sweet spot" for Limburg wines. 
This time we visited the St. Martinus vineyard in Vijlen. We had tasted their "Bergdorpje" (means mountain village) white in a restaurant. It's a blend of some of these new varieties. Calling it "Mountain Village" is sort of a joke, in that Vijlen is somewhere between a mountain and a molehill, which is to say… it's a hill. Nonetheless, the St. Martinus church in Vijlen does in fact have highest altitude of any church in the Netherlands, so there. We brought home a case of Bergdorpje, plus their "Gris de Villare", a blend of Souvignier Gris and Pinot Gris grapes.
Another destination for wine-lovers in the immediate area would be Fromberg wines in Ubachsberg, about seven kilometers directly north of St. Martinus. Try their excellent Müller-Thurgau.
There are loads of food options in the area, but it's worth noting the distinct upward shift in quality the moment you cross into Belgium. Just south of the border is Sippenaeken and our favorite bistro pub in all the world, Le Barbeau. There are always excellent Belgian beers on tap, a good menu, and outdoor dining front and back. We discovered it back before the Euro. We arrived one day hungry and thirsty, with only Dutch guilders in our pockets. The owners said it didn't matter, take a load off, and what could they bring us? They made us feel welcome from the start, and we've gone back year after year.
One challenge has been to find a good route to walk there, by which we mean avoiding paved roads as much as possible. This last time we felt we hit it: fields and stiles. Let us share that with you now. The path was there all along; if we'd consulted the topographical map we would have seen it.
A half hour's walk south of the Hopsetere Linden in Vijlen is 't Hijgend Hert', (you know, from psalm 42: "As pants the hart for cooling streams, Of Limburg beer and wine"). It's charmingly hidden deep in the woods. Most of the seating is outdoors. If it's busy our experience is that the wait isn't long, and they have big tables which seat eight. If you want to be sure of a spot, it's a good idea to reserve. If you get lucky with seating you can enjoy views of the "back yard" with goats, rabbits, peacocks and, of course, deer. Theirs is hearty, woodsy fare.
For a really high-end dinner on the Netherlands side with a colossal view of the Geul river valley, we recommend the wide dining terrace at Gerardushoeve in Epen. Still and sparkling house wines are made for them especially by St. Martinus.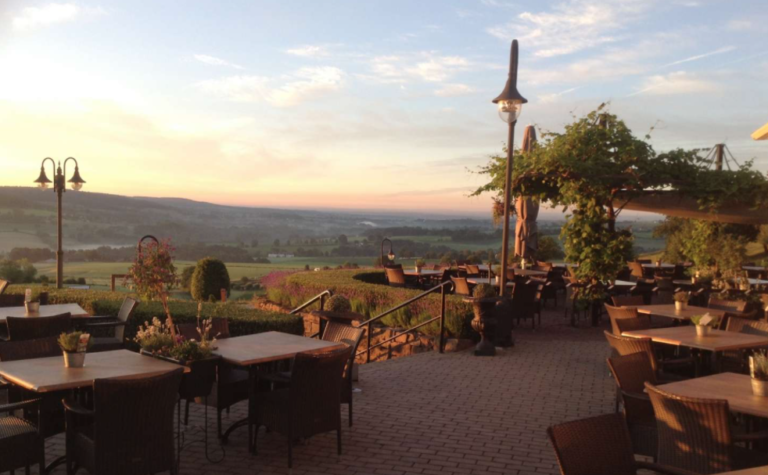 Here are two more recommendations, walking distance from Epen (NL). In Teuven (BE) visit Moeder de Gans (Mother Goose). Big salads and ploughmen's lunches are their specialty, and they serve the stinky Herve (what we in English know as Limburger cheese) and both cheese and beer from nearby Val-Dieu abbey. If you sit outdoors there will likely be fowl on the hoof under and around the tables. (We're speaking figuratively; please do not point at a chicken and inform your server "I'll have that one".) Across the street is Café Modern – their "modern" atmosphere is decidedly 1920's and they will underscore this from time to time by playing a dance tune on their deafeningly loud "pierement" or barrel organ.